Books on Dyslexia
Get the Right Diagnosis, Understand Treatment Options, and Help Your Child Learn
By: Abigail Marshall (Editor), Vincent Iannelli (Editor)
Finding out that a child has dyslexia can be shocking and confusing – and thousands of parents get this disturbing news every day. Appearing as early as when a child is struggling to say 'Mama' and 'Dada,' dyslexia is a condition that will affect a child's ability to read, write, and understand basic language construction and for a parent, this can be a tough reality to take in. Covering information on every stage of diagnosis, treatment, and growth, When Your Child Has… Dyslexia will help parents: Teach children how to cope with educational, personal, and social difficulties. Choose the right school and reduce academic struggles. Maintain communication with their frustrated child Providing parents with the invaluable information and resources they need, When Your Child Has…Dyslexia takes an in-depth look at the reality of the disability and manages to make sense of it for worried parents.
About The Author
Abigail Marshall (Pacifica, CA) has been the manager of the Dyslexia.com and moderator of the DyslexiaTalk.com forum since 1995. She is the mother of a son with dyslexia, and she has a B.S. degree in applied behavioral sciences and a law degree.
---
Why Some of the Smartest People Can't Read…and How They Can Learn
By: Ronald D. Davis, Eldon M. Braun
The revised, updated, and expanded edition of the classic in the category. This book outlines a unique and revolutionary program with a phenomenally high success rate in helping dyslexics learn to read and to overcome other difficulties associated with it. This new edition is expanded to include new teaching techniques and revised throughout with up-to-date information on research, studies, and contacts.
About The Author
Ronald D. Davis, who was diagnosed at infancy with severe autism, overcame his own learning challenges and refined his methods over years of working with hundreds of children with dyslexia. He is the Founder of Davis Dyslexia Association International and the Reading Research Council.
---
A New and Complete Science-Based Program for Reading Problems at Any Level
By: Sally E. Shaywitz
FOR EVERYONE WHO STRUGGLES TO READ
Clear, practical, science-based information and advice for successful results
One in five American children has trouble reading. But they are not stupid or lazy. In Overcoming Dyslexia," "Dr. Sally Shaywitz, codirector of the Yale Center for the Study of Learning and Attention and a leader in the new research into how the brain works, offers the latest information about reading problems and proven, practical techniques that, along with hard work and the right help, can enable anyone to overcome them. Here are the tools that parents and teachers need to help the dyslexic child, age by age, grade by grade, step by step.
What dyslexia is and why some intelligent, gifted people read slowly and painfully
How to identify dyslexia in preschoolers, schoolchildren, young adults, and adults
How to find the best school and how to work productively with your child's teacher
Exercises to help children use the parts of the brain that control reading
A 20-minute nightly home program to enhance reading
The 150 most common problem words-a list that can give your child a head start
Ways to raise and preserve a child's self-esteem aqnd reveal his strengths
Stories of successful men and women who are dyslexic
---
Learn the Key Signs of Dyslexia and Find the Best Treatment Options for Your Child
By: Abigail Marshall
Help your child succeed in the classroom–and in life! As a parent of a child with dyslexia you may wonder what you should expect as your child goes through life. How can you help your child deal with school and succeed? It's true, there are challenges for children with dyslexia, but when identified early, they can be overcome successfully. Abigail Marshall, manager of dyslexia.com, shows you how to: Identify the early symptoms of dyslexia. Work with teachers to create an Individualized Education Program (IEP). Reduce homework struggles. Find the best treatment program. Help your child develop skills with the use of assistive technology. Plan for college and career. The Everything Parent's Guide to Children with Dyslexia, 2nd Edition is your first step in facing the challenges of dyslexia with a positive attitude.
About the Author Abigail Marshall is the mother of an adult son with dyslexia. She manages dyslexia.com, dyslexiatalk.com, and dyslegia.com; and writes about brain function, reading techniques, brain studies, and strategies for dealing with dyslexia. Her column appears regularly in The Dyslexic Reader, a quarterly online and print publication. She is the author of The Everything Parent's Guide to Children with Dyslexia. She lives in Pacifica, CA.
---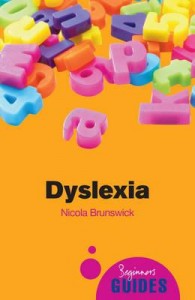 A Beginner's Guide
By: Nicola Brunswick
Winston Churchill, Andy Warhol, Walt Disney, Tom Cruise, Agatha Christie, Pablo Picasso. All famous and successful in their chosen professions. All dyslexic. Around 5 to 15% of speakers of alphabetic languages (e.g. English, French and Spanish) are dyslexic; around 4% severely so. But what is dyslexia? Are there different types of dyslexia? Is it more likely to occur in boys than in girls? Is there a cure? What resources are available to help dyslexic children and adults? Nicola Brunswick answers these, and other, questions informed by current thinking and cutting-edge research. Includes chapters on the causes and symptoms of dyslexia, the importance of sound and vision to reading, the incidence and manifestation of dyslexia across alphabetic and non-alphabetic languages, and lists of dedicated dyslexia resources – support associations, websites, and assistive technology.
---
21 Super Strategies to Ensure Your Child's Success at School
By: Liz Dunoon, Sir Richard Branson (Foreword by)
Is your child struggling at school? To Read? To Write? To Remember? To Learn? Helping Children With Dyslexia shows you how to ensure your child's success at school. You will find out:
How to tell if your child is dyslexic and what to do next
The secret to stopping your child's tears and tantrums over school and homework
How to help your child to regain their confidence and their self-esteem
Proven strategies to help your child catch up when they have fallen behind at school
How to talk to teachers, choose the right school and get a support system in place
How to access 100's of free learning aids and resources
Why your child can overcome dyslexia and look forward to a happy and successful future
How to teach your child to Read, Write & Spell and do Math
This book will help you take Immediate Control of your Child's Destiny!
---